Vegan Product Comparison
Compare vegan products to find the best quality at the best prices.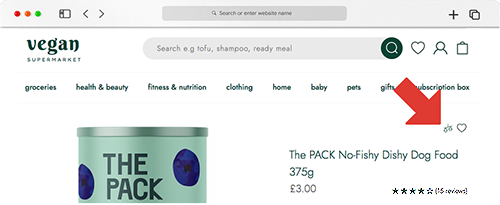 Looking to compare prices for vegan products on Vegan Supermarket?
If you are looking to compare different vegan products side by side in a simple and easy way you are in the right place.
Step 1. Create an account or login to your account.
It is free and quick to create an account on Vegan Supermarket. Once you have created your account you are ready to compare over 10.000 vegan products from over 500 cruelty-free, organic and vegan brands using this vegan product comparison tool.
Step 2. Find the vegan products you want to compare.
Navigate around the Vegan Supermarket online store for the vegan products you would like to compare.
Once you find a product you would like to compare, look out for the price comparison button (

). Clicking this button will add the product to this product comparison page.
All that is left to do is find another product you would like to compare it with, and click the compare button (

) on that page too.
Step 3. View the products on this price comparison page.
With two products added you are now able to use this page to compare both vegan products side by side to make sure you are getting the best value and quality when you purchase anything from Vegan Supermarket.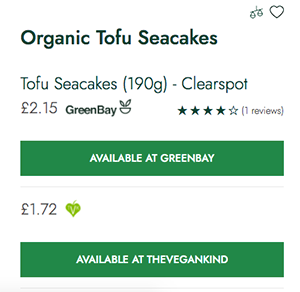 Vegan Supermarket price comparison tool
Vegan Supermarket works with some of the largest vegan-only supermarkets, small businesses and cruelty-free brands in the UK.
Many of these companies have their own products but some offer the same product.
This is where the Vegan Supermarket price comparison tool comes in!
It not only compares prices but performs daily price checks for any updates or offers, it then displays the prices so that you get the best vegan products at the best price.